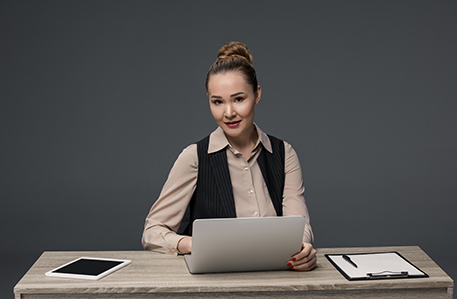 We believe that we need you! Our job is to unite high qualified specialists with employers, who hire the best professionals.
Founded in the year 2000, we became the first Kazakhstan agency which specialises on selecting financial specialists. Till this day, we are the best in this area by opinions of many experts. Over the years of development, we reached the same high level of professionalism on recruiting every category of employees, in every area of business.
We work enthusiastically and effectively. In result of our hard work hundreds of companies in all of Kazakhstan, Central Asia and Caucasus gained reliable and cost-effective service.
Nonetheless, we respectively treat candidates. We respect all of our applicants as individuals, helping them to develop careers through consulting, coaching and training.
Why choose FMI PROFESSIONALS - what makes us different from other agencies?
We are a Customer- oriented company. We find an individual solution for each client: we are open to discuss prices, terms of payment, any deadlines. We will always offer you interesting, effective, useful solutions or advice. It will undoubtedly help you in business!
We believe in the idea of entrepreneurship. We build business on trust to our clients.
We imbed advanced technology and standards. With us, you will always find modern service new to Kazakhstan.
Our colleagues differ with strong loyalty to the Agency. All of us work in recruiting for more than ten, for some twenty years. This means, we perfectly understand the specifics in the kazakh market of labor, and its unique features and traditions.
We know candidates " on a long history", e.g. for many years we track their successes and achievements, real recommendations and comments from different sources.
Most importantly, we focus on long term partnership. Compared to many other agencies, which frequently change recruiters and focus on short-term gains through a one-time commission rate, we build long lasting relationships on prospect. We can sacrifice " seeming a profitable" deal and with our reward, if we do not believe in a long-term potential of a candidate. Sometimes we initiate an extension of a warranty period (free replacement period), refund and beneficial discounts for some engagements.
It happens, that we rarely mistake the candidates' assessment, and their compliance with the corporate culture of our customers. If we wouldn't have been good at this, then wouldn't be able to successfully compete in recruiting business for so long. In the past 20 years, we had to give " free replacement" for different reasons, no more than three percent of the total number of placed candidates. 70-75% of the time we compete with other agencies for one vacancy, it is our candidates who win the competition.


How can we help you? Call and ensure in the quality of our service!
+7 (727) 277 -70- 70